Updated: Junior High or High School parents and students - if you need resources during the closure, the MISD @ Home page will have the most updated information and links to the teachers Google Classrooms. If you have any questions, please feel free to contact me and/or the teachers.
https://www.marfaisd.com/article/218552?org=marfa-isd

March 12, 2020 Dear parent or guardian, As always, the health and safety of our students is Marfa ISD's number one priority. It is crucial we take every possible precaution to keep them safe. So, out of an abundance of caution for our students and staff, Marfa ISD will be closed Friday, March 13, 2020. While there is no immediate danger, spring break will begin a day early. This extra day will provide our custodial and maintenance teams an extra day of cleaning and disinfecting of all classrooms, desk, and materials. Classes will resume on our regular schedule on Tuesday, March 24, 2020.

https://youtu.be/6AYvVaSpoL4
Marfa's Environmental Systems students share an important message about recycling. Great work to Mrs. Loya and her students. Go Horns!

Marfa ISD will host Census 2020 and Shorthorn Showcase at Gregg Auditorium tonight at 6:00 PM. Secondary programs will be featured. All parents and students are welcome. Also, our first home softball game is tonight at 5:30 PM at Coffield Park. Come out, get loud, be proud! Go Shorthorns!

Marfa ISD classes will start on regular schedule today. Buses will run on schedule as well. Stay safe and warm on the way in!

Marfa Independent School District will start classes on Thursday 2/6/2020 @ 10:00 AM. Buses will be on a two-hour delay. Marfa ISD Administration will continue to monitor the deteriorating weather conditions. Any changes to the schedule will be placed on the school's website, phone call, social media, as well as media channels. Thank you and stay safe and warm.

Due to the adverse weather conditions, Marfa ISD will release today at 12:00 PM. Students will eat lunch on campus before dismissal. If you would like to pick up your child/children early, you are welcome to do so. Buses will run at 11:40 AM.

Marfa ISD classes will start on regular schedule today.

Marfa Junior High and High School Basketball teams will not be travelling to Dell City tomorrow, 2/4/2020. The games have been cancelled and will not be made up.


Marfa Playwrights in El Paso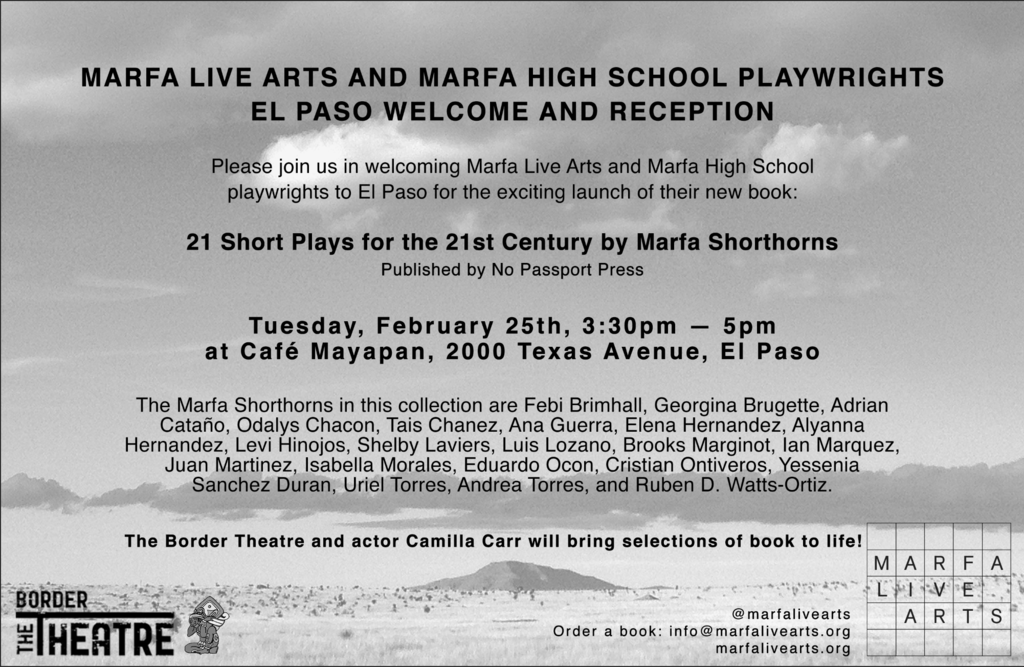 Attached are the notes from the Safety and Security Committee Meeting held on January 22, 2020. Our next meeting will be April 21, 2020 @ 2:00 PM.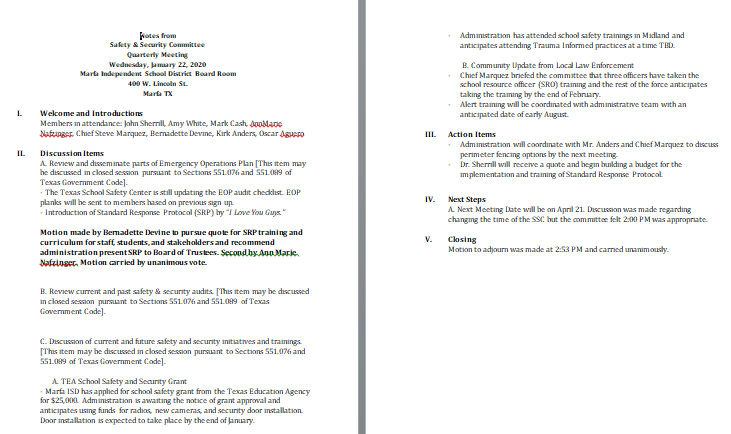 This is a notice that there will be a Safety and Security Meeting at the Administrative board room of Marfa ISD on January 22 @ 2:00 PM.

Sophomores learning about properties of electrons in Ms. Blankenship's chemistry class.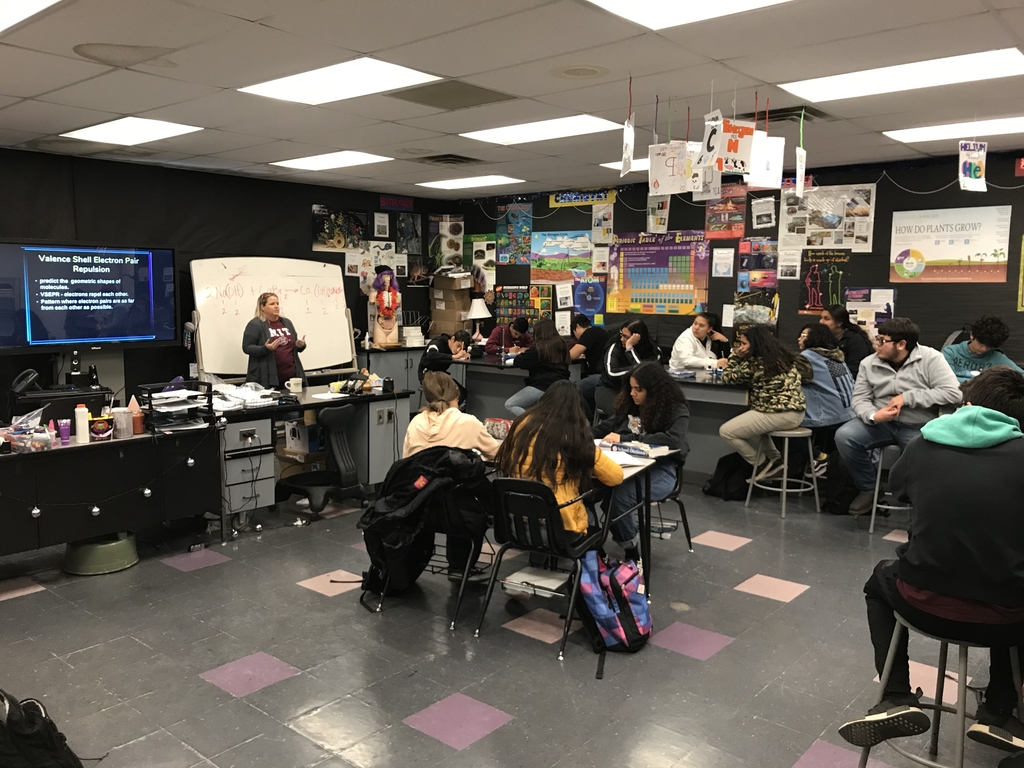 This is a reminder that there will be no school tomorrow. Classes will resume on Tuesday, January 7 at normal time. Happy Holidays!

Marfa High School would like to recognize Mrs. Lora Loya as December's Teacher Feature. Congratulations, Mrs. Loya!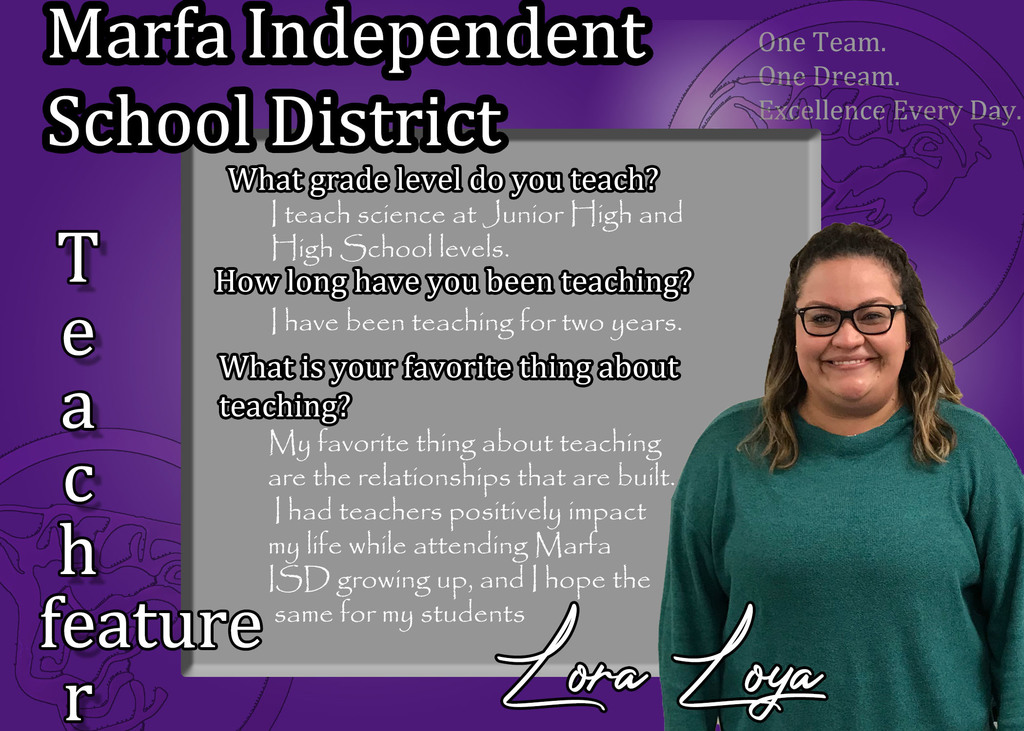 Marfa ISD would like to recognize Edgar Ramirez as the MES Teacher Feature for the month of December. Congratulations Coach Ramirez!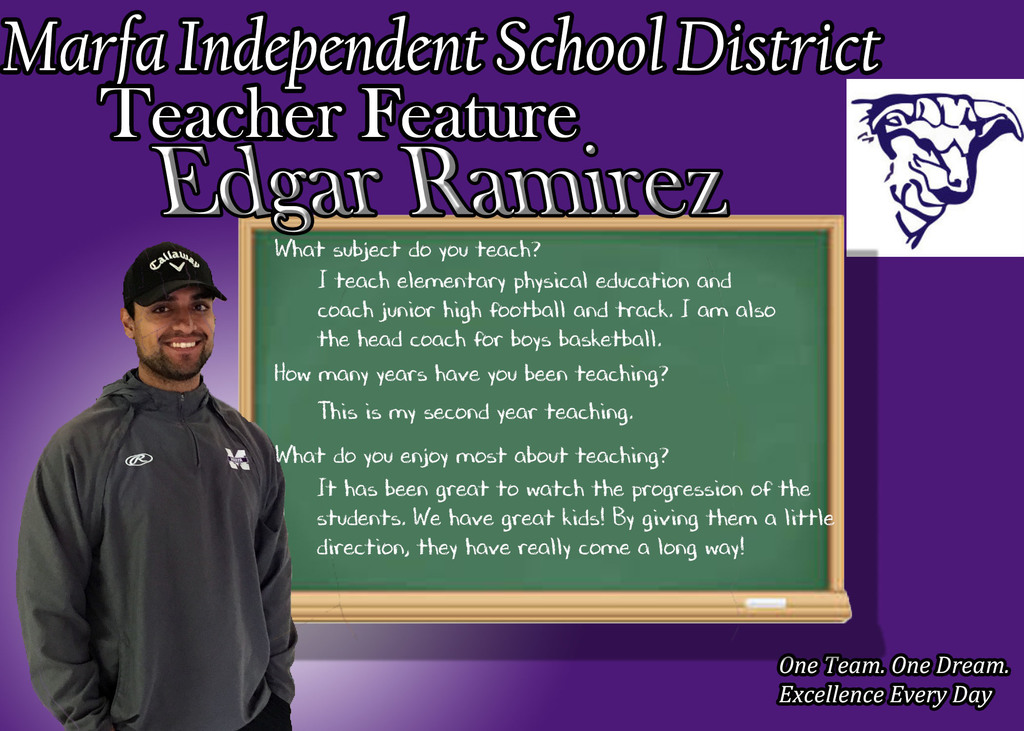 Marfa ISD is sending home progress reports this afternoon. Please check with your student for their progress report. If, for any reason, they did not receive one, please feel free to contact the office at (432)729-5500. Have a great Shorthorn day!

Thanksgiving lunch will be celebrated tomorrow at the cafeteria and Hibbetts gym. We look forward to many visitors and encourage you to pre-purchase your lunches. The schedule for tomorrow's special event is posted below: 11:00 AM - 11: 45 AM - PK, K, 1 will have lunch in the cafeteria 11:15 AM - 12:00 PM - 2, 3, 4 & Barton will have lunch in Hibbitts 11:45 AM - 12:30 PM - 5, 6 & Aguero's class in the cafeteria 12:00 PM - 12:45 PM - JH will have lunch in Hibbitts 12:35 PM - 1:10 PM - HS will have lunch in the cafeteria.

This is a notice that report cards are being sent home today, Wednesday November 20th. If your student did not receive a report card, please contact the campus office and we can make sure you receive the most current grades for your child. Thank you and have a great day!