Pandemic Electronic Benefit Transfer (P-EBT) is a one-time food benefit for families who lost access to free or reduced-price meals due to school closures. Eligible P-EBT families will receive application instructions from schools in late May. The P-EBT application will open the first week of June. P-EBT food benefits are for children who received SNAP food benefits for March 2020 and children who are certified for free or reduced-price school meals during the 2019-20 Texas school year. For more information, visit: hhs.texas.gov/PEBT
Junior High and High School students, please stop by the high school office to clean out your lockers and turn in any books or items you still have checked out.
Thank you Mrs. Eppenaur for making our kindergartners feels special.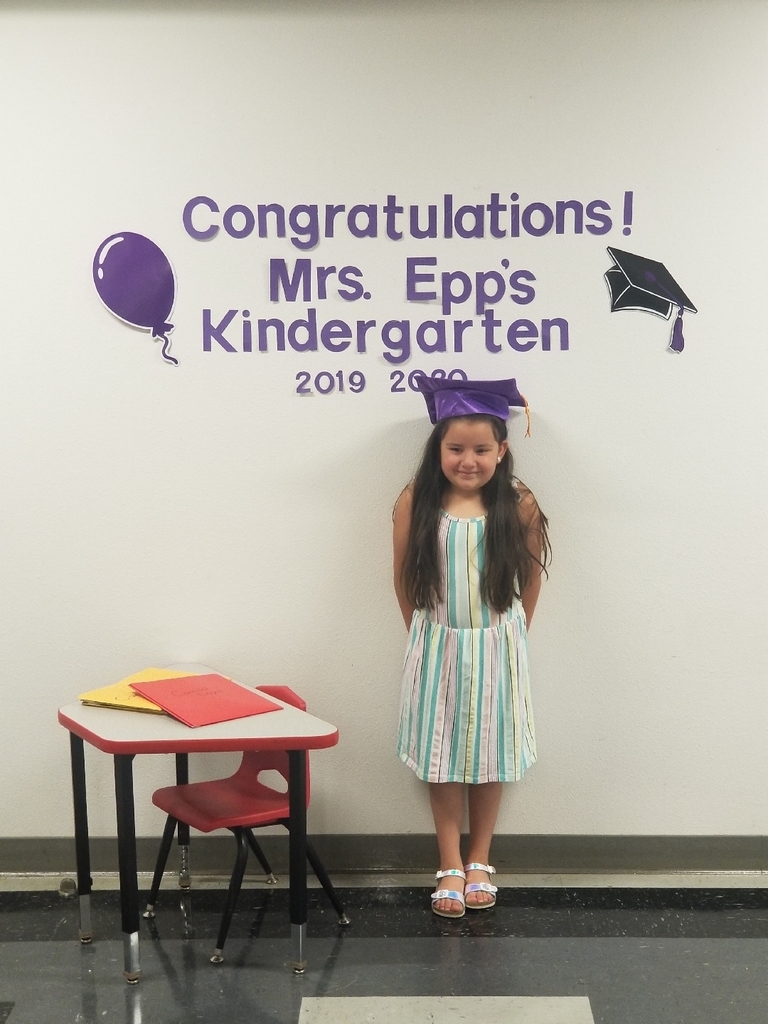 Dear Parents, Registering Pre-K, Kindergarten and New students will be May 19th-22nd at the high school office between 8:00 A.M.- 2:00 P.M. New students need to bring copies of their birth certificates, immunization records, social security card and parent ID. If you have any questions please call the school at 432-729-5500. Estimados padres, Alumnos inscribiendo para Pre-K, Kinder y nuevos alumnos estarán listos y se pueden recoger el 19-22 de Mayo en la oficina de la escuela secundaria durante las horas de 8:00 A.M.- 2:00 P.M. Los nuevos alumnos en el distrito deben traer copias de sus certificados de nacimiento, vacunas, tarjetas de seguro social e identificación de los padres. Si tiene alguna pregunta por favor llame a la escuela al 432-729-5500.
Marfa ISD Graduation Plan Graduation will be held at Martin Field on Friday, May 29, 2020 at 7:00p pm. In case of rain, the ceremony will be held on Saturday, May 30, 2020 at 7: oo pm. Be advised, this permission is subject to change as underlying public health conditions change. Outdoor ceremonies must meet the following requirements: • School systems must cap the number of total participants (inclusive of students, families, and staff) to a level that can be managed in the outdoor venue to maximize social distancing, both during the event and during entry and exit. (Cap of 10 per student, 2 Sections of five, you must have a ticket to enter the event) • School employees and school facilities must comply with the guidance for School Employees in School Facilities except as authorized by this guidance. • Students and parents (or legal guardians) must comply with the guidance on Student NonInstructional Visits except as authorized by this guidance. • Prior to attending the ceremony, participating students and attending family members will be screened (via questioning) by school system employees for any of the following new or worsening signs or symptoms of possible COVID-19: o Cough o Shortness of breath or difficulty breathing o Chills o Repeated shaking with chills o Muscle pain o Headache o Sore throat o Loss of taste or smell o Diarrhea o Feeling feverish or a measured temperature greater than or equal to 100.0 degrees Fahrenheit o Known close contact with a person who is lab confirmed to have COVID-19 if exposure to the active confirmed case occurred within the last 14 days Those found with any of these signs or symptoms must be excluded from the activity. • Graduates or promoting students may only be brought together for one event per class or breakout group. No rehearsals will be permitted. • Keep 6 feet or more of spacing between all participants, except that members of the same family (five individuals or fewer, excluding the graduate if seated with the household) may be allowed to sit together in the audience but must be at least 6 feet away from any other family groups at all times. • Hand sanitizer or hand washing stations will be available at all venue entrances. • School employees at the ceremony will be limited to the minimum number needed to logistically support the ceremony. • Diplomas or other documents may not be handed from person to person unless gloves are worn by those distributing diplomas or other documents to students. • Consistent with the actions taken by many institutions across the state, Marfa ISD recommends that all employees, students, or other visitors wear cloth face coverings (over the nose and mouth) while attending the ceremony, or if they will come within 6 feet of another person who is not a member of that person's household, except when photos are taken. If available, they should consider wearing non-medical grade face masks. • Care will be taken and efforts made to mitigate virus exposure when participants come into contact with documents and other objects such as diplomas and awards. • School employees will be stationed appropriately to ensure compliance with all requirements and to limit congregation. • A robust communication plan must be in place to address steps to be taken before, during, and after the ceremony to ensure that participants are aware of safety protocols at the ceremony and explicit instructions to graduates or promoting students not to congregate outside of school sponsored ceremonies or events. (Further information to be distributed as plans are finalized) • Members of the audience will have assigned seating • Families will be given arrivals and departures times to ensure appropriate social distancing
MHS Class of 2020 Graduation Parade Friday Evening Families and friends of the Class of 2020, along with community members, are invited to honor this year's graduating class during a parade this Friday evening, May 15. The parade begins at 7:30 pm. Marfa ISD and the Marfa Police Department ask parade attendees to park along the parade route, remain in their vehicles, and practice social distancing guidelines at all times. Parking spots for each graduate's immediate family will be reserved along the west side of the County Courthouse. All other parking spots along the parade route are open to the public.  Seniors will be driven in decorated vehicles and proceed from the high school headed east down Lincoln Street. The parade will turn left to go all the way around the Courthouse, then continue south down Highland Avenue, turning right on Oak Street where the parade will end.  Music, announcements, and senior highlights will be broadcast live on KRTS at 93.5 FM and stream at marfapublicradio.org. The school will also stream the event live on the Marfa Shorthorns Facebook page.  Following the parade, KRTS will air a special hour-long program of dance music put together by the MHS junior class to honor the graduating seniors. Everyone is invited to tune in to 93.5 to join the socially-distanced afterparty.

Virtual College Night
https://youtu.be/rkdco0JuKHQ
We are thankful to our panelists for sharing their perspectives for our students. It was an informative, interactive night and we had 23 students participate! Go Horns!

Marfa ISD is proud to announce the valedictorian and salutatorian of the class of 2020. Congratulations Jarad and Bella!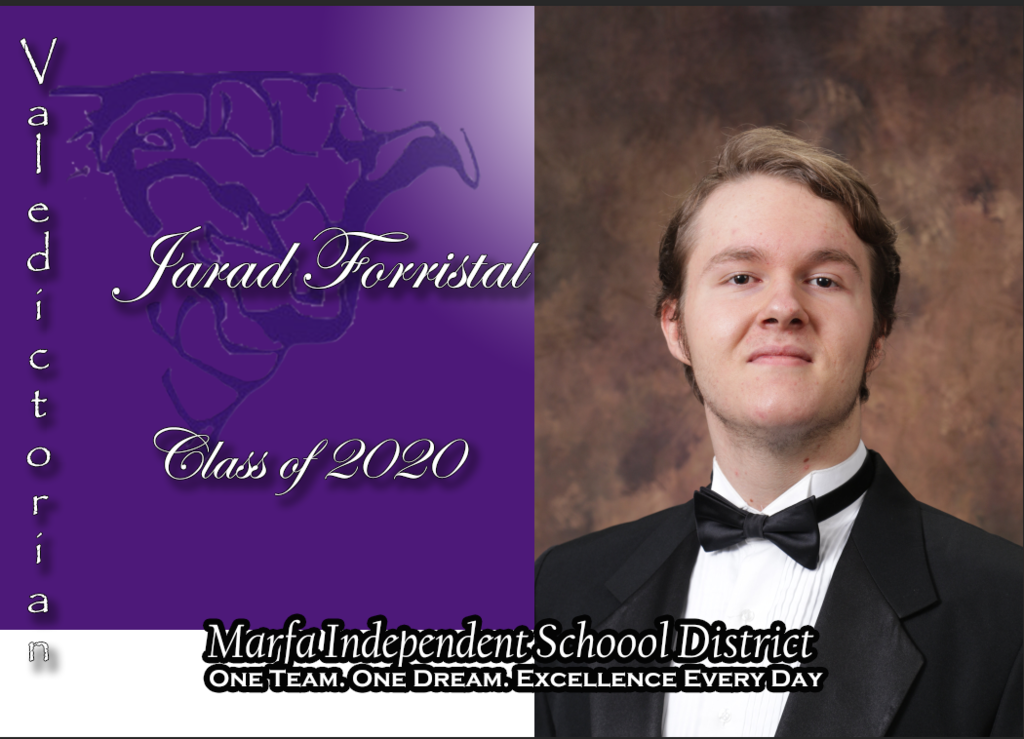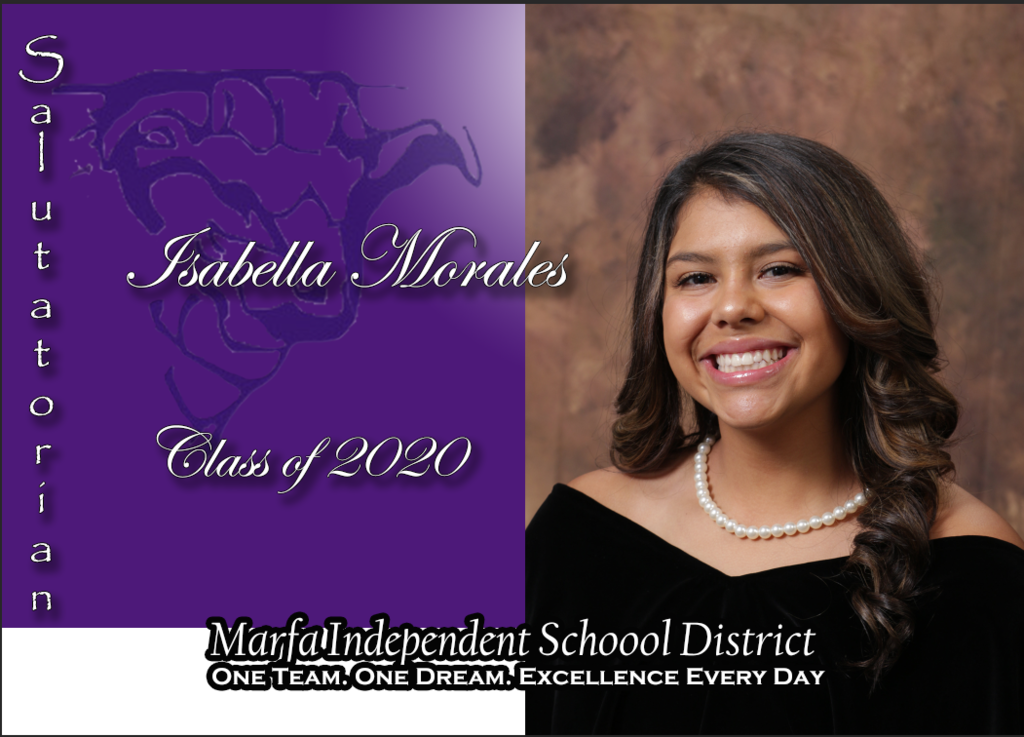 This is a reminder that there will be a Virtual College Night held for 7-12 students (and parents). Students have an invite in their school email. For parents interested in participating, the website is
https://zoom.us/j/98178415927?pwd=OXhkRzdlY1VRM28rSGlWb2V4NS84QT09
and you will need to contact Dr. Sherrill for the password at
jsherrill@marfaisd.com
Presenters will be: - Dr. Michael San Francisco, Dean of Honors College, Texas Tech University - Alejandro Castro, Angelo State University - Daphne Rodriguez, Sul Ross State University - JR Torrez, Odessa College - Dr. Lillian Porter, University of Texas Permian Basin
Monday April 27, 2020            Thank a Healthcare Hero Day-Wear Blue Tuesday April 28, 2020            Coach Ramirez's 100 Rep Challenge-Show us your workout Wednesday April 29  2020        Sports Team Day-Wear your teams' jersey/shirt/colors Thursday April 30, 2020           

Please see the attached link for information from Judge Guevara regarding Covid-19 testing availability in Presidio County.
https://5il.co/ff7b

Marfa ISD will continue to offer breakfast and lunch deliveries at the six satellite locations and Robinson cafeteria Monday - Wednesday. On Thursday, meals will be given for Thursday AND Friday. There will be NO meal service on Fridays. If you have any questions, please contact the school at 432-729-5500.

Junior High and High School parents/students, We will have a Virtual College Night via Zoom with colleges in the region. Confirmed guests (so far) are Texas Tech, UTPB, and Odessa College. This will take place on April 30 @ 6:00 PM. Each student has an invite in their email. Parents, if you'd like a separate invite, please email
jsherrill@marfaisd.com
and I will make sure to get you set. Thanks and Go Horns! Dr. Sherrill

Seniors, Jostens will be onsite tomorrow, Thursday April 16 to delivery cap and gown orders. They will be delivered drive thru style, just like packet pick up/drop off from 11:00 AM - 12:00 PM in front of the HS auditorium. You or your parents may come to pick up your orders. Please remember, drive thru style means there is no reason to get out of your car. If you have any questions, please let me or Mrs. Gomez know.

This is a reminder that there will be packet pick up/drop off tomorrow, April 9 in front of the high school auditorium from 9-12. It will be a drive thru style delivery so you will not need to get out of your car. If you have any questions, please call the school at 432-729-5500.

Junior High and High School students meet with their instructors via Zoom at the following times. If you need to download Zoom, please go to zoom.us to sign up and download the app. If you are not able to do so via computer, every zoom has a call-in component.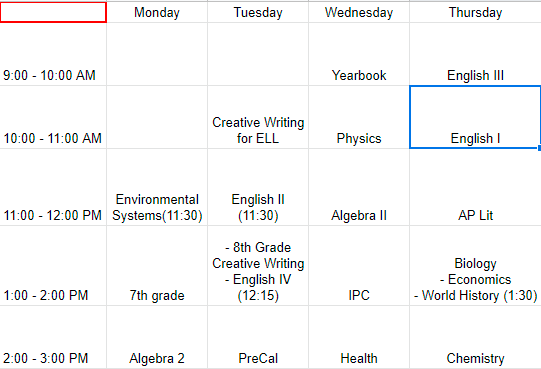 Reminder - All children 18 years and under are eligible for free breakfast and lunch. The pic shows the delivery times. If you have questions, please call 432-729-5500.

Friday, April 10 will be a distance learning - school holiday. There will be no instruction provided on that day. Enjoy the three day weekend. In addition, meal service will not run on Friday but we will provide two days worth of meals on Thursday, April 9.

Marfa ISD will hold packet drop off/pick up on Thursdays in front of the High School Auditorium for all elementary, junior high, and high school students. Please see the website for previous pick up/drop off times. Pick up and drop off will be held in a drive through manner. To respect social distancing, there is no need to get out of your car. If you have any questions, please contact the school at 432-729-5500.

Paper based instructional packets may be turned in today from 9:00 AM - 12 noon. Please contact teachers to know which papers need to be turned in and which are for next week. Packet drop off will be at the same locations (West side of the elementary or old tennis courts for JHHS) and will be drive thru style. If you have any questions about paper based instructional packet drop off, please feel free to contact the school at 432-729-5500.