Celebrate art and have a snow cone at the Elementary School end of the year Art Show from 4-6pm, tomorrow, Saturday, May 21, at the Marfa Studio of Art Gallery, 106 E. San Antonio. All are welcome!
Today, Friday, May 20, is the last day of school. Elementary award programs begin at 9 a.m. at Shorthorn gym. Jr./Sr. High award program begins at 11:15 a.m. at the Shorthorn gym. JSHS students will have lunch at 12 noon, host volleyball games at 1 p.m. and be released at 3 pm. Happy Summer! It's great to be a Shorthorn! See you next year.
It's ok to not be ok. And it's ok to talk about it. National and local mental health services are available for those at risk of suicide: Call: 800-273-8255 (800-273-TALK) Text: TX to 741741 (free, 24/7) Chat:
https://suicidepreventionlifeline.org/
End of Year Senior Events Seniors are required to attend. 5/20 - Senior Walk – 8:30 a.m. Elementary school in cap and gown. 5/22 - Optional events - Graduation Mass at St. Mary's Catholic Church and Baccalaureate ceremony at 6 pm Shorthorn Gym. 5/ 23 - Senior Luncheon -12 noon, Robinson Cafeteria and Senior Scholarship/Awards - 2 p.m., Marfa Shorthorn Gym. 5/24 - Senior Day Chinati Foundation 9:30 a.m.-2p.m. 5/25 - Senior Parade - 7 p.m. Line up 6:30 p.m. 5/27- Graduation Practice - 9 a.m. and Graduation – Seniors arrive at 6:30 p.m. Ceremony at 7 p.m.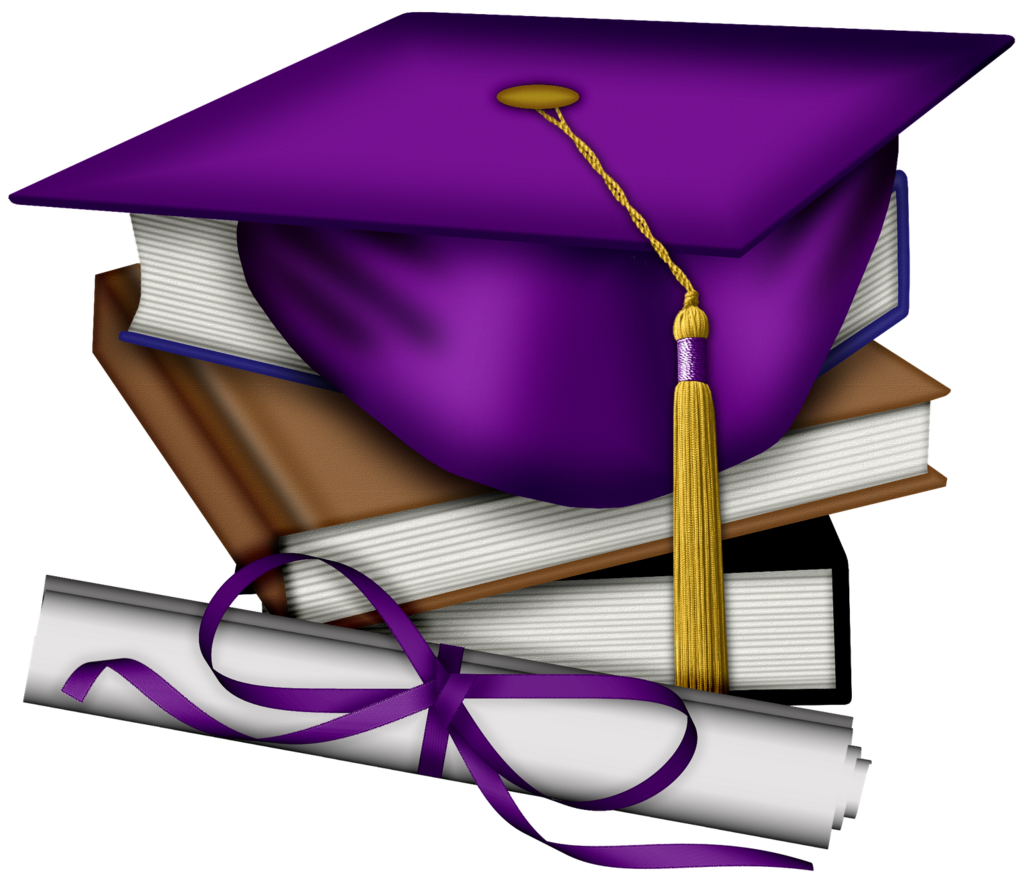 We have reached capacity for the sports banquet at the St. George Hall. Thanks for your support!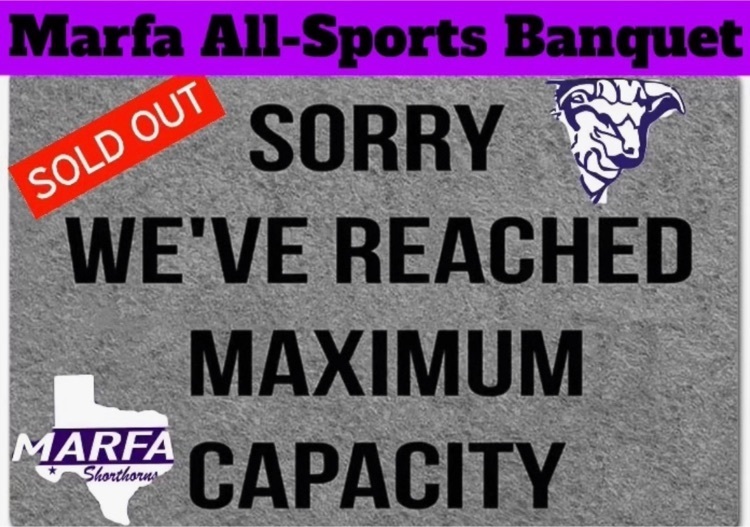 We are honoring our Jr/Sr High School athletes at the Annual Shorthorn Sports Banquet at 6:30 pm, Wednesday, May 18, at St. George Hall. Each athlete will receive two guest tickets tomorrow, Wednesday, May 18, at school. No extra tickets are available. Go Horns!!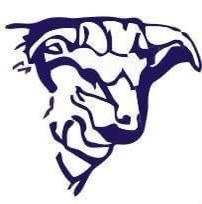 The May 18 JH/SR High School music concert has been canceled.
Elementary Music Concert tonight at 6:30 pm at Marfa Shorthorn Gym. Tonight's concert will feature Grades 3, 4, 5 & 6. Please join us for this end of the year event!
Yearbooks have arrived!! Get yours today for $20. Stop by the high school office or call the high school for more information 432-729-5500.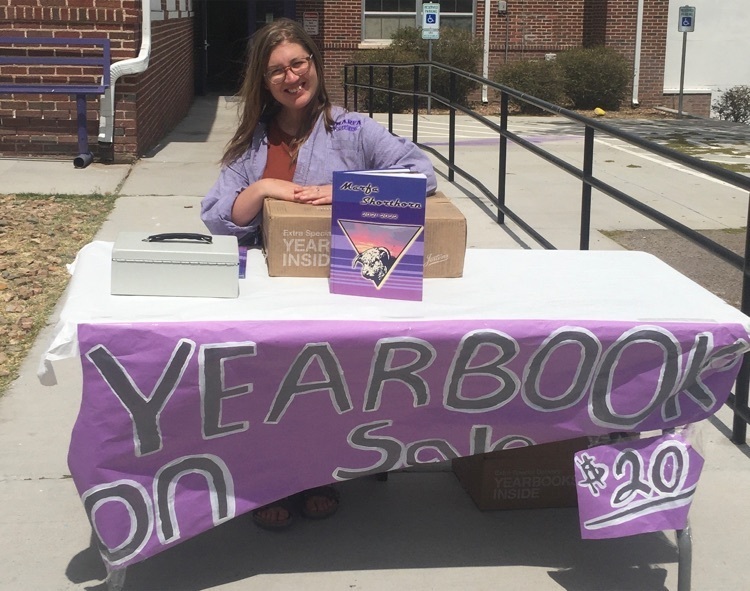 Alexis Gonzales getting ready for the UIL State Golf Tournament! Good luck!! Go Horns!! Photo by MHS Coach Curtis Pittman.
Come support our athletes at Coffield Park! Steak sandwiches will be sold for $10 includes chips and a drink. Proceeds will help pay for volleyball camp. JH softball team will be playing at the park at 4 pm against Van Horn.
Our student art work is on display at Chinati Foundation Arena. Come celebrate their accomplishments! And get some ice cream, too!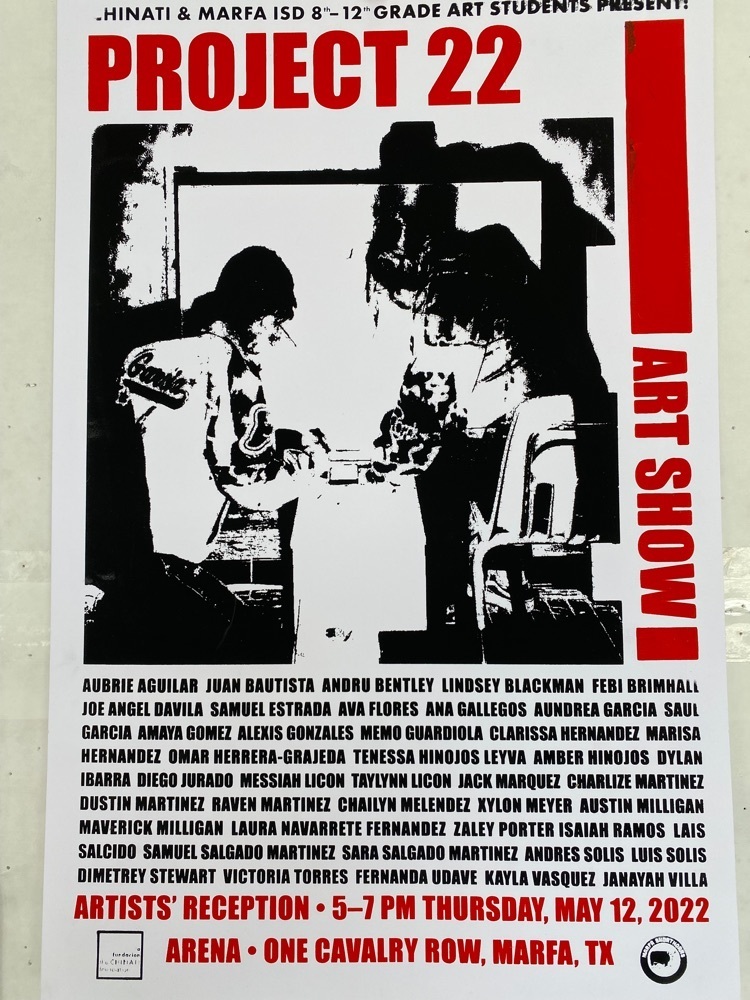 Senior Odalys Chacon is this year's recipient of the Paisano Chapter, National Society, Daughters of the American Revolution Good Citizen award. She was recently honored with other area high school students at a reception in Alpine. Congratulations!
Tonight's the night! Join us at 7 p.m. at the Crowley Theater as we showcase our high school playwriters!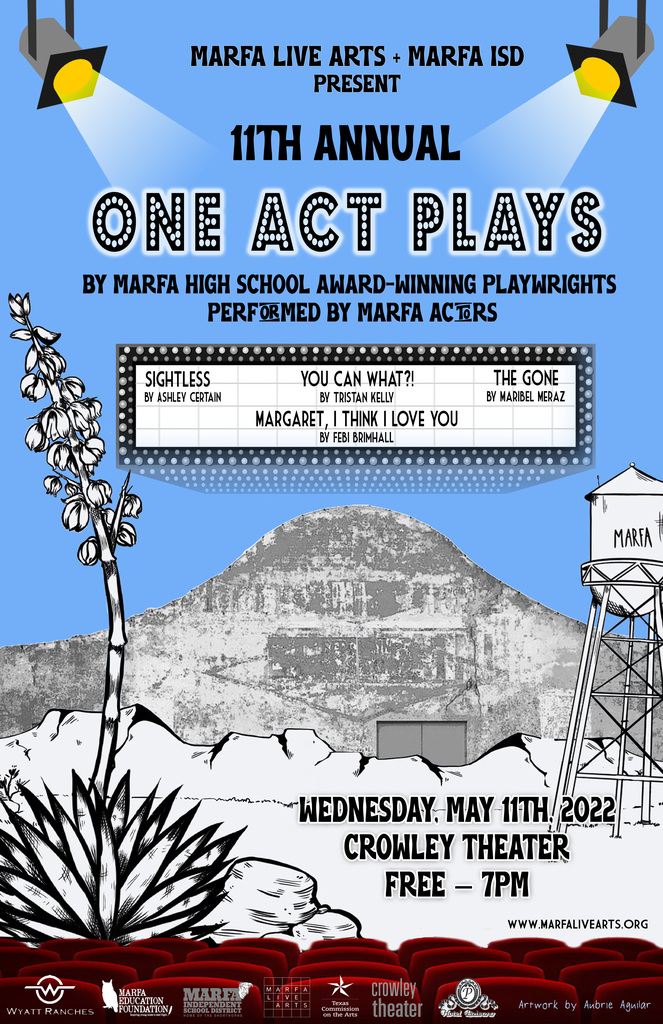 Day 2 for Cristian Ontiveros at the UIL State Golf Tournament. He's only 4 strokes behind first place! Let's keep sending those Shorthorn vibes! Go Cristian! Go Horns!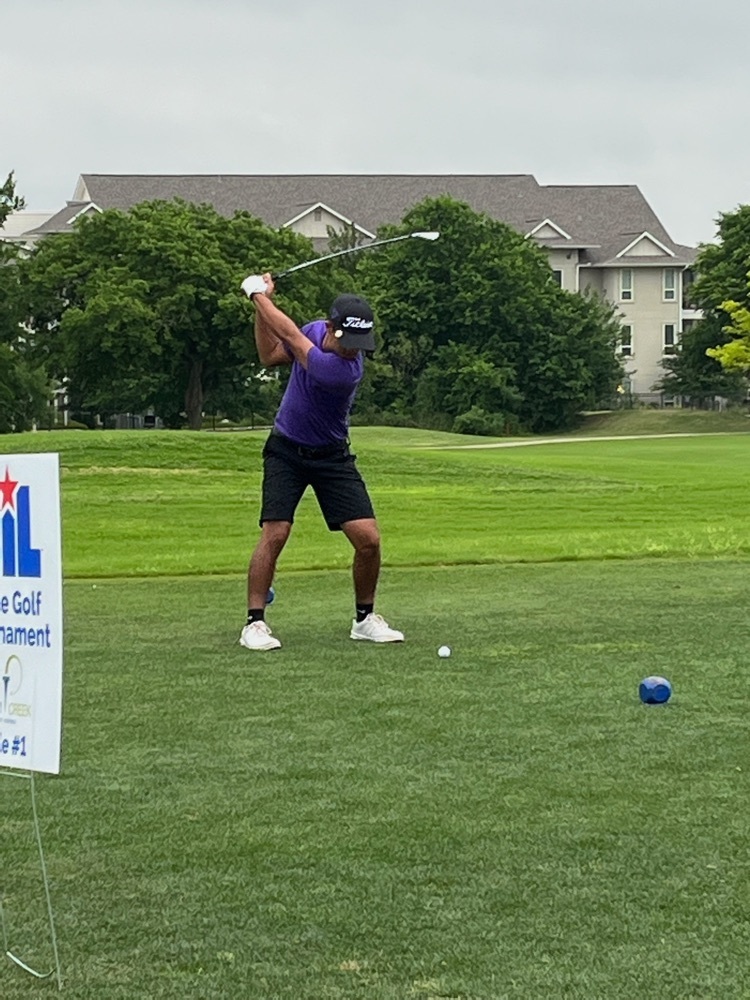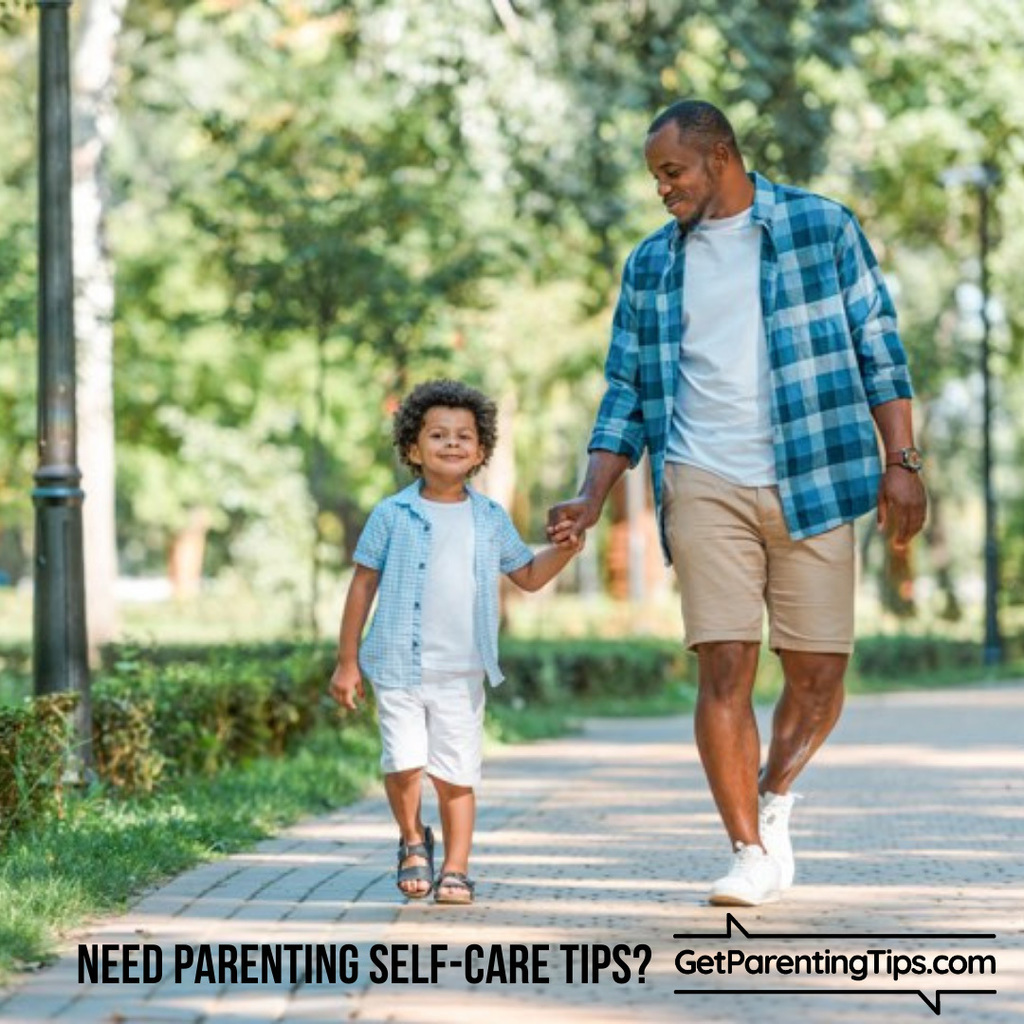 Senior parent meeting at 6 pm today at Marfa High School to discuss upcoming events for the Class of 2022.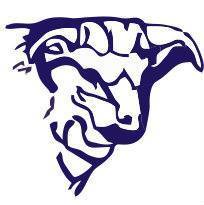 Cristian Ontiveros getting ready for the UIL State Golf Tournament! Good luck!! Go Horns!! Photo by MHS Coach Curtis Pittman.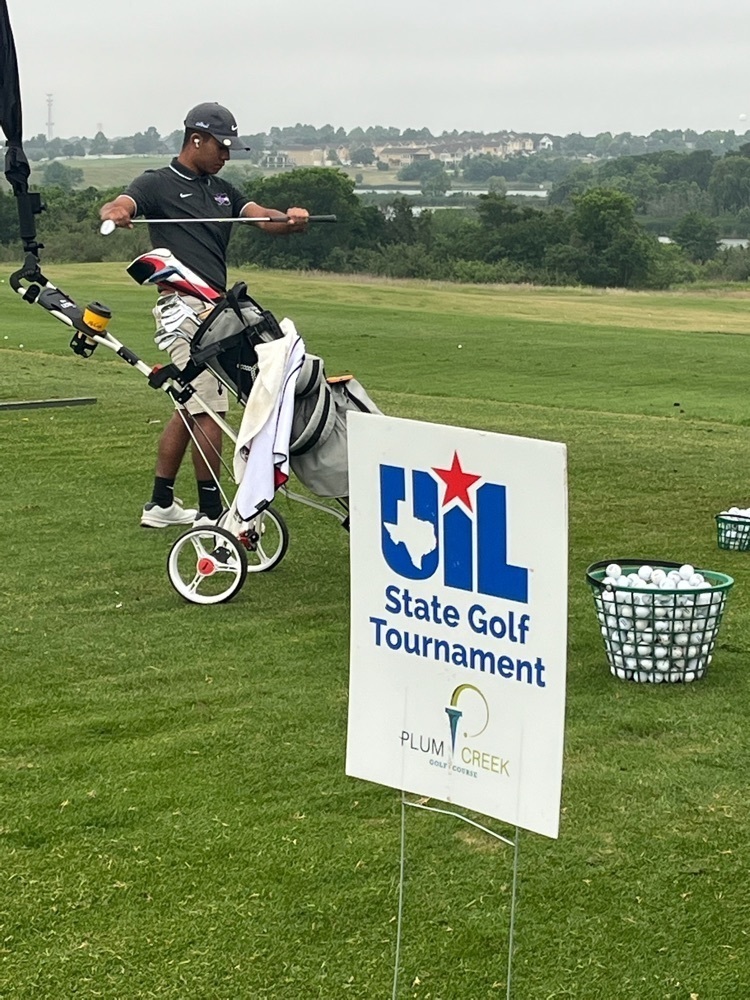 STAAR tests for Grades 3-8 will be given on May 10-13, 2022. Testing is online. Please make sure your child brings their charged chromebook and charger to school each day of testing. Tuesday, May 10th, Grades 3-8 Math; Wednesday, May 11th, Grades 3-8 Reading; Thursday, May 12th, Grades 5 and 8 Science; and Friday, May 13th, Grade 8 Social Studies. Thank you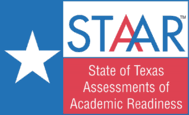 PreK and Kinder students honored the amazing cafeteria staff on School Lunch Heroes Day!! Thank you, ladies, for all the work you do!